QAS 2023 Speaker Proposals
---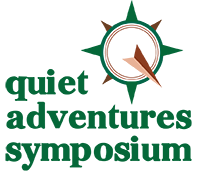 MSU PAVILION
4301 Farm Lane | E. Lansing, Michigan
March 4, 2023
---
Each year, outdoor enthusiasts come together to celebrate the outdoors at the Quiet Adventures Symposium in East Lansing, Michigan. After two years of virtual symposiums, we look forward to getting more than 2000 people together again at the MSU Pavilion. The theme this year is ADVENTURE! FIND IT! Focusing on non-motorized outdoor activities and environmental stewardship, we will be developing the program soon.

As always, we seek speakers for the meeting rooms available for us throughout the day. We are looking to have up to 33 presentations throughout the day, from 9:00-5:30. Below is a link to send us your proposal as a speaker. You may submit more than one proposal. The registration site works best with GOOGLE CHROME browser.

Speakers receive a complimentary booth and two entries to the event. You will need to register for the booth separately and receive a discount code if selected as a speaker.

In order to be considered for inclusion in the 2023 Quiet Adventures Symposium speakers' program, we must receive your presentation proposal by Jan 4, 2023
(Deadline extended to Monday, January 9!)
. We have a limited number of rooms available for presentations and will make final selections for the 2023 program by Jan 23, 2023. You may present up to two proposal submissions for different topics.

For the event, including the rooms with presentations, we will be following MSU COVID Guidelines.
If you have any questions, please contact us
Email: info@quietwatersociety.org
Phone: 517-258-2488

Thank you for supporting the Quiet Adventures Symposium!