Since we will not be gathering in the MSU Pavilion, we will not have a traditional exhibitor floor show in 2021. Instead, we offer space for promotional videos in our virtual programming. If you do not already have a 60 second promo recorded, they are easy to make with PowerPoint or similar software. For an example,
CLICK HERE
or on the photo below to see a demo promo.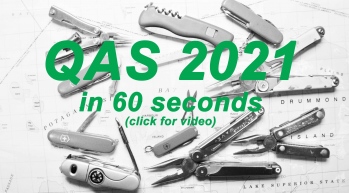 Promo slots in the virtual show are available for $25 per 60 seconds. Your prerecorded message will run either before or after one of the evening presentations. There will be just three slots per presentation or a total of 30 slots per evening.
All prerecorded messages from organizations are due by February 1, 2021. They must be 60 seconds or less and be recorded in an mp4 file. If you purchase a double slot for $50, the message can run up to two minutes. Please contact
info@quietwatersociety.org
for details on message format requirements.