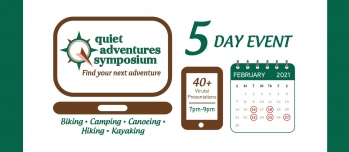 We still have to fill in all the blanks but if you like surprises, QAS 2021 will be perfect. Instead of a one day event with 33 presentations in five separate rooms, we offer a five evening event with 42 presentations in two separate "rooms". We open the show on Tuesday, February 16. You can choose to join either one of the two presentations which start at 7:00 PM. At 7:30, a new pair of presentations will start. At 8:00, 8:30 and 9:00, more sessions are scheduled until we sign off at 9:30. If you stick with us all evening, you get five presentations and a whole lot of good ideas about how to have fun outdoors.
On Thursday, February 18, we are back at 7:00 PM with another ten presentations. Expect the same the following week on Tuesday, February 23 and Thursday, February 25. If you do not find something you like on our schedule, you must live on the space station.
The QAS Grand Finale comes to you on Saturday, February 27, also starting at 7:00 PM. The 2021 Verlen Kruger Award will also be presented as part of the final evening's programming. Come and see one of our heroes who helps keep paddle sport strong.